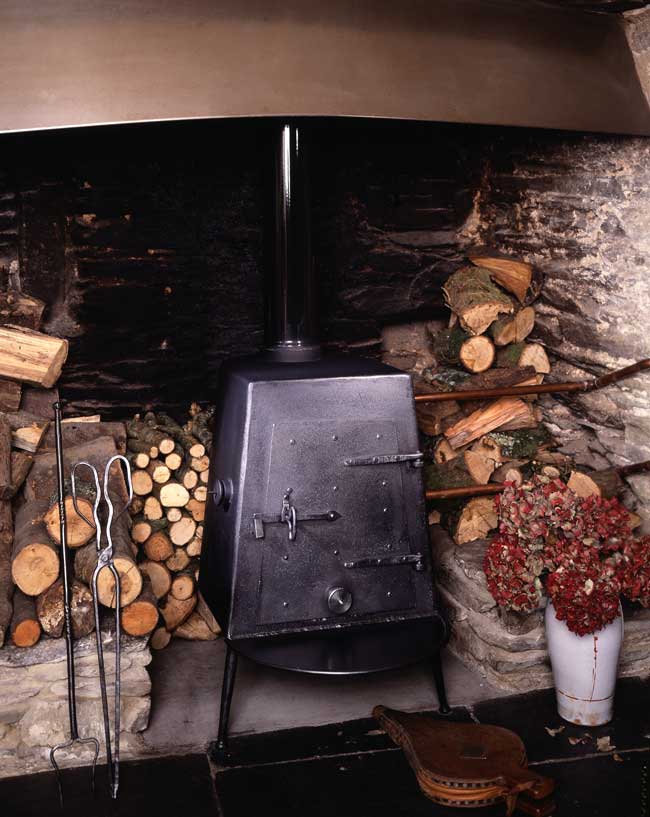 .
In recent years the number of mass produced stoves of reasonable quality seems to have rocketed. Manufacturers and marketers have really got their act together and filled every corner of the internet with stoves of every shape size and quality. Accordingly the demand that used to exist for bespoke stoves has fallen away – probably depressed still further by the mass of red tape and legislation now surrounding the whole subject of fires in the home- and  I have found the percentage of my workload to do with the fireplace has dropped away considerably.
So perhaps offering up the last 30 years experience of making stoves is a red herring. However there has been a glimmer of light in the form of a recent commission to make an architecturally inspired stove or a 'stove in the manner of…'- an angle that I had often been attracted to but only once really had a crack at before.
Below, in any case, a few examples of earlier stove productions;
Otherwise work around open fires is a natural place for the blacksmiths input;
Other work around the fireplace includes  fire doors,
gathers and other flue related works;
tools and guards etc.
All these jobs and more are documented more fully in the appropriate sections of the Commissions Gallery
I also supply bespoke register plates as per these illustrations through Stovesonline uk 
Use the link to go through to their register plate pages.
Clips and collars are also for sale in the 'Useful, Unique, Robust..' section of our shop.