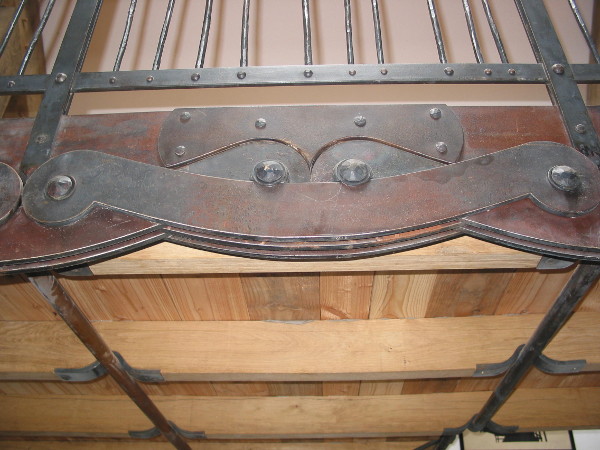 .
The original requirement here was for an internal bridge giving access to a mezzanine floor above the central living space/ kitchen that had been isolated from the rest of the upstairs by the need to get light down into the kitchen.
A 'get your kids into science' book detailed a design by Leonardo da Vinci for a bridge using short notched straight timbers cleverly interlocked to form an arch. This idea translated quite easily into a steel structure and formed the basis of the design which then stayed in place as a sort of front elevation to what ended up being effectively another mezzanine floor joining the two separated areas and allowing the staircase up through one corner….
Initial idea/concept;         customer/jcb

Design;                             jcb
Detailing                            jcb
Executed                          jcb (john churchill)
Customer feedback;

It was a pleasure working with John from start to finish. He kept us informed of progress and of any significant developments/evolution in design as he went. On site he was professional, self-contained and tidy. He turned up when he said he was going to and the final installations went smoothly and to plan. This was even more impressive when you consider that he worked off-site and to small tolerances. The end result fits in really well and adds greatly to the house. We will not hesitate to work with him again when the next project comes along.