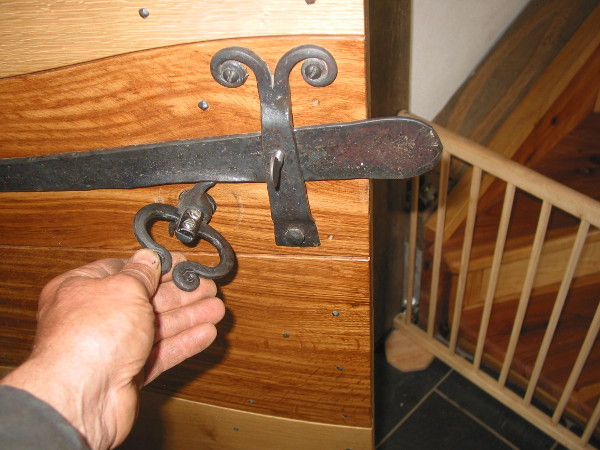 .
Door furniture for an ecologically aware oak frame and straw bale house. The front door thumb latch illustrated below was subject to the requirement for the front door to be as nearly airtight as possible and so used a rotation of the spindle to lift the latch bar by means of a ring latch style rocker on the inside. This worked well, and my initial fear that users would find it confusing appear, one year on, to have been groundless.
The spouting whale latch keeps throughout the house salute watery and fishy connections of the client
Internal door furniture. The internal doors were made from wide thin planks with the tapered ledges set into opposed tapers so that, once hung, the forces of gravity were effectively acting to tighten the planks onto the ledges. We extended this idea to the design of the strap hinges as shown below (hopefully).
Initial idea/concept;         customer/jcb

Design;                             jcb
Detailing;                            jcb
Executed;                          jcb

Customer feedback;        "John Churchill's creations have added stunning, yet functional, features to our house. On his initial visit he very quickly got a feel for the type of thing which we were after and then ran with some ideas, feeding back to us every so often for a little input. Each element he made was sympathetic and sensitive to the part of the house into which his work was to go. For the doors he made ironwork hinges which directly echo the way in which the wedge-shaped braces, dovetailed into the main boards, bind the boards together by utilising the forces at play in the door. The way these hinges work is such a simple and elegant solution.
John also made his own take on the door latch for all the internal doors, with a unique internal 'trigger' mechanism to open the door. He came up with a more involved design for the front door which is basically a giant suffolk latch. We love the way it looks and works, making it a pleasure to open and close the door. Our house is a highly insulated, made from straw bales and so John even added in a thermal break to the main door handle design to reduce heat losses".