Not Found
Apologies, but there are currently no stoves ready to be sold.
Capton Hooks; hand forged iron hooks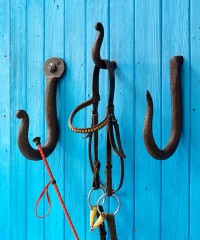 Since establishing the New Forge in 1988 I have regularly been asked to produce hand forged hooks, of all shapes and sizes, for home, stable, barn, shed and boat.
I have organized a few of these into a small range of simple hand forged hooks; these are presented, detailed and priced in the pages which you can access by clicking on these images.
All the hooks described here as hand made hooks or hand forged hooks are made here at our forge in the time honoured fashion, that is to say either forged by hand on the anvil or, in the cases of the larger hooks, forged under the power hammer and then finished by hand. The use of traditional forging processes throughout ensure that each hook is completely unique and possesses, (as do all other products of the forge), the air of authenticity that a factory made hook can only hope to aspire to imitate.