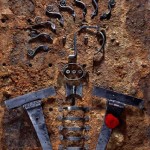 I work, in rural Devon, designing and making in iron. The bulk of my work is to commission – as illustrated elsewhere on this site – but there are a few things that, over time, have developed into stock items. These items are made here, not imported from the Far East – or from anywhere else for that matter.
Due to the ready availability of cheap imported forged ironmongery, and the glut of even cheaper fabricated facsimiles, I do not attempt to compete on the most easily found items of ironmongery.  Instead I offer what is, hopefully, an interesting and varied collection of often unique forged goods.
The pieces  illustrated here in the shop are either in stock and currently for sale, or of a repeatable design which allows them to be produced at a fixed price and with a lead time of nearly always less than 3 weeks. I will advise of the estimated delivery date when an order comes through.
I will also sometimes be offering "one off" pieces for sale  as well as seconds. Such offers will be marked as such.
All prices shown include vat.