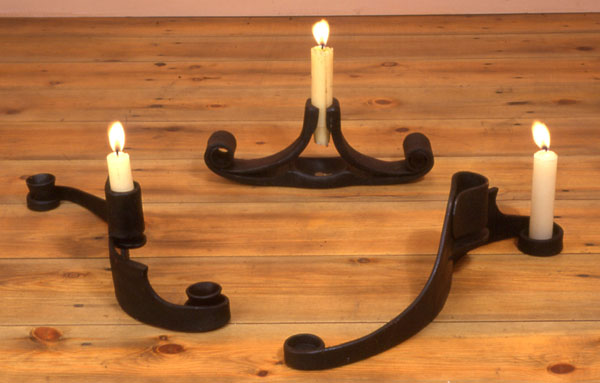 .
(above) Forged candle holders.
(below) Large and small cellar sticks.
Punched uplighter with styrene (?) diffuser and secret wall mounting.
Various candle holders.
Initial idea/concept;         customer/jcb
Design;                              jcb
Detailing                            jcb
Executed                          jcb (john churchill)
Cantilever light.
Forged wall sconces.
Recycled lantern and baked bean can sconces.
This commission for the Bothy Project at the 'New Craftsmen' involved the making of storm lanterns and some small candle holders using recycled materials and low tech methods.
Squashed baked bean cans and forged copper pipe, copper plate from old fortic tank and lemonade bottles cut by thermal shock, stripped back welding rods and off cuts from the production of register plates all combined to make these serviceable prototypes.
Final designs still to be finished and photographed
Initial idea/concept;         anthony harrison

Design;                              a h

Detailing                            jcb a h

Executed                          jcb (john churchill)